Congratulations to Martin McFarlane of CRGP Limited on the successful completion of his Part III, which has awarded him the title of Architect.
Martin's ten-year process started in 2007 when he embarked on a three-year Architecture degree course at the Mackintosh School of Architecture, gaining a Bachelor of Architecture degree and Part I exemption in 2010.
Following Martin's one year placement with Anderson Bell Christie in 2012, in which he gained great experience in design guidance, feasibility and construction, he returned to the Mackintosh School of Architecture in September 2012 to complete a two-year Diploma in Architecture degree, gaining Part II exemption.
On completion of the Diploma at the Mackintosh School of Architecture, in July 2014 Martin took up the post of Part II Architectural Assistant at CRGP Ltd. After one year in this position, Martin had been fortunate to work on many projects throughout the RIBA Work Stages including a New Build Funeral Home from Stage 1, a New Build Housing Masterplan from Stage 5 and eventually running projects as Contract Administrator.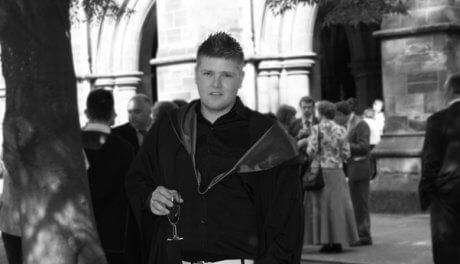 After working at CRGP Ltd. for around three months, Martin was invited back to the Mackintosh School of Architecture to complete the Master of Architecture course in September 2015. He completed this course in the part time mode with a day release from working in practice. Martin commented "I thoroughly enjoyed the balance of working in a professional environment alongside academia as it provided me with a platform to pursue my own interests in architectural studies, as well as learning about its application in a professional environment." Martin completed his Master's degree in May 2015 with a distinction (First Class).
His passion for the profession of architecture continued from this point, and the desire to hone his skills and gain more experience to meet the required Part III criteria ultimately led to Martin to running jobs on site, with 3 main projects across the spheres of Leisure, Ecclesiastical and Residential.
Over the past 2 years Martin has been heavily involved in a New Build Funeral Home project, a large scale residential housing project in Gleneagles and also the extension and refurbishment of Linlithgow Leisure Centre's Sports Pavilion, which developed invaluable experience towards his Part III studies.
The final Part 3 examination involved writing a case study based on a project Martin worked on with CRGP Limited, sitting a 48-hour office based examination and passing an oral examination. Martin also submitted 3 years of log sheets detailing his project experiences to date, alongside the thoughts of his employment mentor.
Martin explained 'I have been very fortunate in my time with CRGP to receive a fantastic support network from the staff at CRGP. My mentors have always encouraged me and understood the difficulties associated with balancing work and Part III studies.'
Now that Martin has gained the title of Architect; he is currently on holiday to Venice to enjoy some free time out-with his studies!